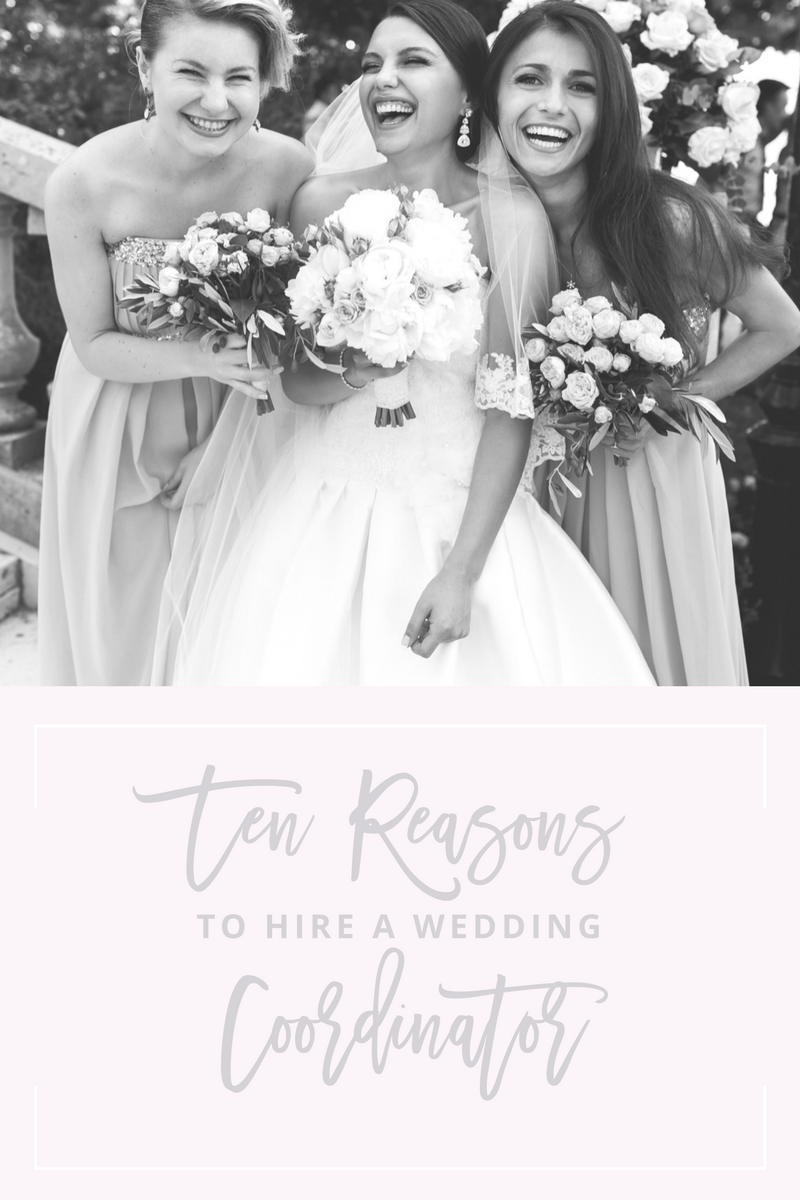 May the Wedding Planning Begin
First off, if you are reading this because you're engaged, CONGRATULATIONS!! So, do you need a wedding coordinator? Yes, of course, you do. Ok, we admit it we're probably a little biased.
As we approach wedding season, there is a lot of debate about whether or not hiring a wedding coordinator is necessary. Of course, I am here to tell you it absolutely is! Surprise, surprise Lol.
Planning a wedding can be extremely stressful; but one of the things hiring a wedding coordinator can do is help you eliminate that stress. Now, there are tons of couples out there that can absolutely plan their weddings from start to finish by themselves. (I, however, would not advise this but, I know there are couples that are capable). Just please, hear me when I say this — please,  at the very minimum — hire a day of wedding coordinator. DO NOT forego this. Day of wedding coordinators most certainly will help make your day run so much more smoothly, with less hassles, and are absolutely 150% necessary.
10 Reasons to Hire a Wedding Coordinator:
Budgeting — The wedding coordinator can SAVE you money. They know how to negotiate with vendors on your behalf to keep your costs down. They have spent years and years establishing themselves in the industry and formulating relationships with vendors that will give them discounted event coordinator rates.
Trends — Wedding coordinators generally have been doing this for some time. They know the trends, which means they know the overused trends. Wedding coordinators will work with you to build a vision that is authentic and won't make you cringe when you show your children your wedding photos in 10 years; they will work with you to create something that is definitely your vision but is also timeless.
Wedding Etiquette — Wedding coordinators are aware of proper wedding etiquette. For example, when to send the save the dates, where the father of the bride should be seated, etc. The coordinator handles all of these things and more so that you don't have to waste time researching them.
Contingency Plans — Wedding coordinators have seen it all! We are pros with contingency plans. My very first wedding ceremony was scheduled to be outdoors and unfortunately it rained. Happily, there was already a contingency plan in place and everything ran smoothly.
Background — Wedding coordinators have been in the industry long enough to know which vendors have the best reputations and provide the best service for the best value. When planning a wedding, it is very reassuring to have the recommendation of someone you trust versus going with a vendor you have absolutely no previous knowledge of or experience with beyond a few Yelp reviews.
Time — Planning a wedding is your coordinator's full time job. You, more than likely, already have a full-time job that keeps you pretty busy. On average, a coordinator takes between 900-1200 hours planning a single wedding.  Hiring a coordinator saves you an immeasurable amount of time which means the wedding will not take over your life.
Game Plan — We create an extensive planning timeline for the entire process. No matter if you hire a full service coordinator or a day of coordinator, we create a planning timeline and checklist for completing each task from the day that you contract us for service, throughout the wedding day, and beyond. Before you begin to stress over when to send out your save the dates, book your hotel blocks, and schedule your tastings, we have come up with a timeline and a schedule for each task. We are happily by your side to help you check each task off the list.
Buffer — Coordinators can be the "bad guy" in terms of difficult decision-making and stressful situations. They coordinator is the point of contact with all your vendors. Hence, the Coordinator will be the one to tell the florist that you decided to go with a different florist. In a nutshell, the coordinator is the "bad guy" so you and your future husband don't have to be.
Money — I know this one may seem a bit repetitive. BUT hear me out. Why would you spend 20k-40k (yes, the average couple spends somewhere in the middle of this) on your wedding, but leave it up to chance for it all to fall into place? Weddings are super expensive these days and there are so many moving pieces. You 110% need someone to manage all those moving pieces.
STRESS — This is really the most important reason to hire a wedding coordinator. Particularly on the day of. The difference in the  stress-level of a bride who hires a professional wedding coordinator and a bride who doesn't is enormous. When it comes to the day of your wedding, you want to be able to relax and enjoy one of the most important days of your life. You want to be able to live in the moment and not be the point of contact for vendors and any potential mishap that may occur. Hiring a coordinator allows you that freedom and is a decision you certainly will not regret.
If you have already had a wedding or are in the middle of planning one, what are some of the reasons you have found hiring a planner to be most helpful?
xoxo,
[/et_pb_text][et_pb_signup _builder_version="3.0.106″ title="10 Questions to Ask a Potential Wedding Coordinator Before You Book Them!" button_text="Click here to Download!" background_color="#d6d4d8″ use_background_color="on" provider="mailerlite" activecampaign_list="|none" aweber_list="|none" campaign_monitor_list="|none" constant_contact_list="|none" convertkit_list="|none" emma_list="|none" feedblitz_list="|none" getresponse_list="|none" hubspot_list="|none" icontact_list="|none" infusionsoft_list="|none" madmimi_list="|none" mailchimp_list="|none" mailerlite_list="Scarlett Events|6377852″ mailpoet_list="|none" mailster_list="|none" ontraport_list="|none" salesforce_list="|none" sendinblue_list="|none" name_field="on" success_action="redirect" success_redirect_url="https://hj7.4ce.myftpupload.com/wp-content/uploads/2018/04/10-Questions-to-Ask-YourWedding-CoordinatorBefore-you-Book-Them.pdf" success_redirect_query="on||||" use_focus_border_color="off" background_layout="dark" result_message_font_size_tablet="51″ result_message_line_height_tablet="2″ custom_button="off" button_icon_placement="right" box_shadow_style_fields="preset1″ /][/et_pb_column][/et_pb_row][/et_pb_section]