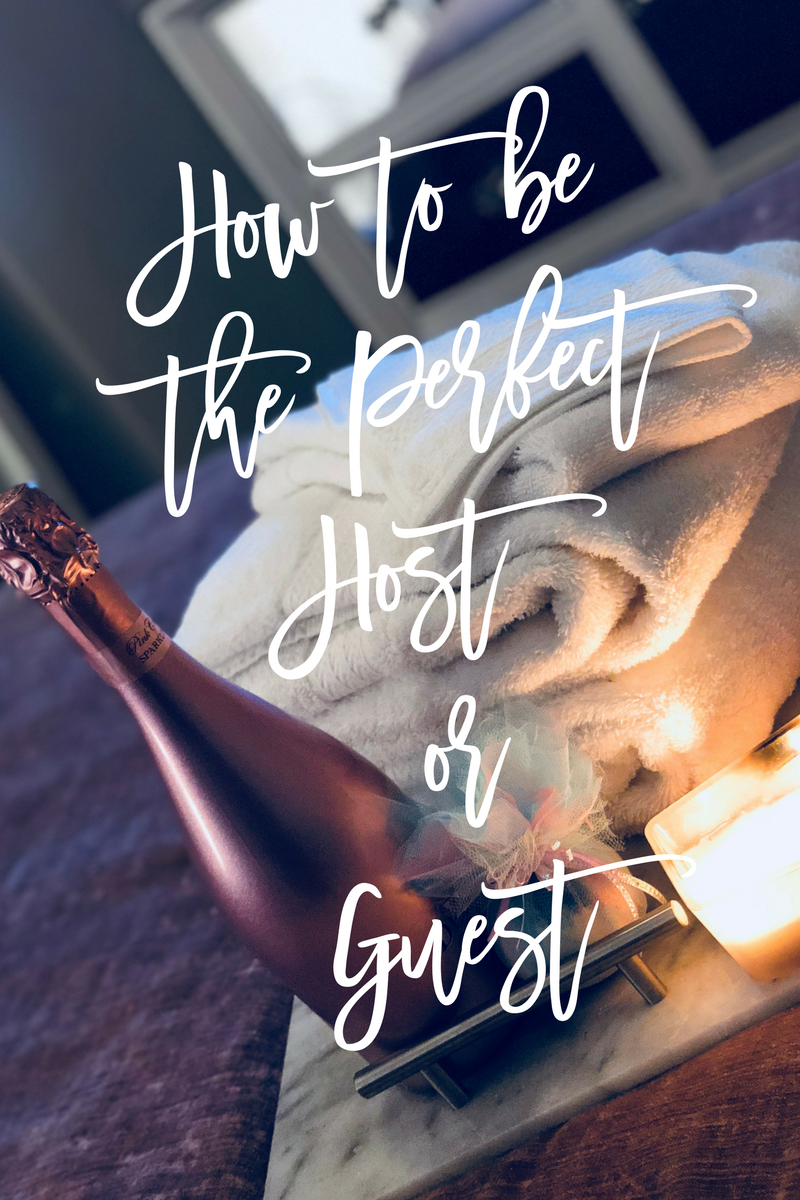 This weekend I am super excited because I am going to visit my bestie.  I can't wait to catch up, laugh until we cry, and of course eat amazing food. My best friend is really the best host and we have SO much fun.
Each time I visit, she greets me with a comfy and clean guest bedroom. The bathroom is stocked with the essentials (because I usually forget to pack something I need) she leaves out a cute little basket with delightfully scented soaps, a brand new spare tooth brush, deodorant, bath bombs, and floss. She lays out her most plush towels on the bed – wash cloths, hand towels, and bath towels.
I tend to wake up on the early side to sneak in a few minutes to blog, respond to client emails, and peruse Pinterest. She always makes sure to stock the fridge with my favs- apple juice, croissants (carbs! But hey it is vacation) and keeps my fav coffee out for me.
Tips on How to be a Good Host
Make sure your space is tidy and organized. You want your guests to be able to easily access the essentials.
Your main goal is to make sure that your guest is comfortable in your home. Preempt their needs. Each time I have guests, I want them to feel as if they are in a hotel. I'm fond of fresh flowers by their bedside and often put some sort of chocolate on their pillow to welcome them.
Make sure your fridge is stocked and that you let them know they are welcome to eat anything in your home! I make sure to have yummy snacks and most importantly breakfast foods. Although I love love love taking my guests to my favorite brunch spots.
Ask your guest what room temperature they prefer.
Set a note on the night stand that clearly displays the wifi network and passcode.
Offer to pick up your guests from the airport or train station.
Tips on How to be a Good Guest
Make sure you let your host know what time to expect you. If they are picking you up, let them know if your mode of transportation. Also if flying, let them know if you've checked bags and helpful information like what airport and what airlines you are flying.
Make every effort to be helpful to your host. I wish I could pretend that I help my bestie in the kitchen, but unfortunately I lounge around and sneak tastes of her awesome food when she's not looking. Always offer to clean up the kitchen. Yes, even wash the dishes!
Clean up after yourself! No one likes a messy guest.
Come baring gifts! Lol Bring your fav. Champagne, a lovely bouquet of fresh flowers, or something yummy for the house to enjoy.
Send a lovely thank you note and even a gift to your host after you safely arrive at home thanking your host for their hospitality.
I had a blast this weekend! S/o to my best friend for putting up with my nonsense and always making sure I always have a blast. Until next time!
xoxo
[/et_pb_text][/et_pb_column][/et_pb_row][/et_pb_section]